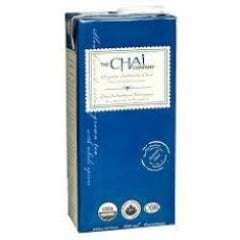 Organic Authentic Chai - 32 Oz. carton
Enjoy it hot or cold. 
Concentration: 1 part chai to 3 parts milk

Amount of Prepared chai made per carton: 128oz
Number of 12oz Servings per carton: 12.7
100% Organic
Kosher
Gluten Free
Ingredients: an infusion of black tea* from the ancient tea gardens in Yunnan Province China, cardamom*, cinnamon*, black pepper*, clove*, vanilla bean* and ginger*. After steeping this chai is filtered and sweetened with evaporated cane juice* and molasses* and then rounded off with a tiny bit of lemon juice concentrate*.
* Organic