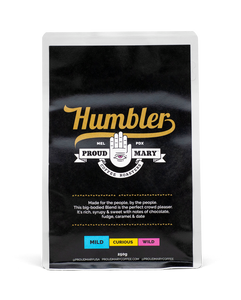 Region: Central America
Process: Mixed
Notes: Chocolate fudge, caramel, date, with a big syrupy body
Recipe: Espresso - 1:2.5   |   Filter - 1:17

Humbler is a coffee made by the people, for the people!

The Humbler blend has been designed universally to cut through milk to generate a chocolate fudge latte and a rich, syrupy sweet espresso.  The blend is approachable and easy to use, which requires no complicated recipes or methodologies.  The profile (taste) remains constant throughout the year. We utilise only fresh seasonal components direct from our producers at origin.