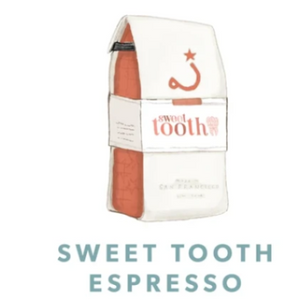 Sweet Tooth
A Single Origin Espresso
As a roaster that is committed to promoting our producers and bringing them out of anonymity, single-origin espresso has always been important to us. The best shots of espresso we've ever had have been single-origin -- dynamic, sweet, and complex. They are balanced, and good in milk to boot.
We rotate the Sweet Tooth offering frequently to keep us on our game, this is the latest greatest.
Harvested: Fall 2019
Variety: Mixed
Location: El Cedral, Santa Bárbara, Honduras
Tastes like: yellow cherry, anise, agave syrup
Grown by: The Moreno Family
Processing Method: Mechanically Washed
Just outside of Peña Blanca, the hamlet of El Cedral is home to some of the most coveted coffees in the world. One family in particular - the Moreno family - has been living and working together for generations here. Most years we have just collaborated with Evin Moreno, but this year the harvest was just too good! Thanks to a great growing season and hard work, the entire family had a surplus of some of their best offerings. Complex but balanced, we are excited to showcase the entire Moreno clan in this stand-out Sweet Tooth.

 We recommend starting with the following brew parameters:
Dose: 17-17.5 grams in a "18g" VST or "17g" Strada basket
Temp: 198-200 degrees at the group
Time: 31 seconds
Brewing Ratio: 50-60% or about 31g of liquid
Pump Pressure: 8.5-9 Bar or 105-110 psi at the group
Days Rested: 7-12